Description
Cordial Adapters
CIW1
(Peak Series) Impedance Converter, TS-F 3,5mm input / XLR3-M output
Input unbalanced with 6.3 mm jack socket
Output transformer balanced with 3 pole XLR-male-connector
A DI-box in a connector – a smart thing. Unbalanced signal sources such as e-bass, e-guitar, keyboards, effect units can get balanced through the CORDIAL CIW 1 and simultaneously adjusted to the input sensitivity of mixing desks. But even semi-professional equipment like e.g. consumer DAT recorders, minidisk players, CD players, turntable preamps etc. will become studio and stage proof through the CIW 1 and can immediately be plugged into stageboxes. All housing components of the CIW 1 are made by NEUTRIK. The signal ground is wired through.
CGL1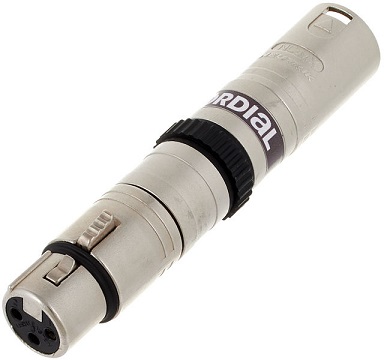 (Peak Series) XLR Groundlift Switch, XLR-F/XLR-M
To avoid conductive ripple pickup this switch offers a switchable ground (Pin 1). Pin 2 and Pin 3 are hard-wired. Made of NEUTRIK adapter parts (XLR male/female and rotary switch).
CDG10
(Peak Series) In-Line Attenuators 200-600 ohm, -10dB, XLR-F/XLR-M
Attenuators are often offered as impedance networks by other manufacturers, a technically not always satisfying solution. CORDIAL CDGs, however, use special transformers as potential dividers manufactured small enough to fit NEUTRIK adapters.
This technical construction leads to obvious advantages:
galvanic separation
highly resistant against interferences
decrease of the source resistance
Despite their small size all CORDIAL CDG's offer a very clear audio frequency range from 20 Hz – 20 kHz (±0.5 dB).